My name is Calla
and am 22 years, have bust: 80 C and clothing: 34 and Height: 165. Come from Spain and speak German and English.
Service surcharge:
Dildo games (active): 10 €
Dildo games (passive): 10 €
Foot erotic: 10 €
Body insemination: 10 €
Lesbian games: 20 €
Erotic massage: 10 €
Golden Shower: 10 €
Couple (man and woman): 40 €
Striptease: 10 €
Strap-on dildo: 10 €
Kissing with tongue: 10 €
Service Inclusive:
Oral (with protection); if desired with straps; Multiple positions; Snuggle & Cuddling; Slight Finger games; Come as much as you can; Kissing; Service for handycapped; Dirty Talk; Egg-Licking; Facesitting; Truck or Car; Outdoor Sex;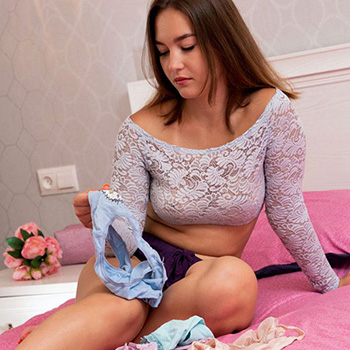 Do you want to book me for one night or for longer, everything is possible. As a beautiful escort lady, I follow my customers, so your wish is my command. Come to me and get in touch, everything about you longs for me and I like it when a man is full of desire. My womanly body can give you what you are looking for, anytime. Since I can adapt to your schedule, we will hopefully meet soon. Just hold me tight in your arms and touch me gently, then the "ice" will soon be broken.

Hooker Calla at Ophelia Escort Berlin is looking for a fling with an erotic striptease through the escort agency, of course, discreetly. I would also be happy to visit you in the area around Berlin: Stahnsdorf, Schönefeld, Ahrensfelde, Teltow, Mittenwalde,Bestensee, Schöneiche, Glienicke, Brandenburg and other cities.